First published on ICT4Peace Foundation website.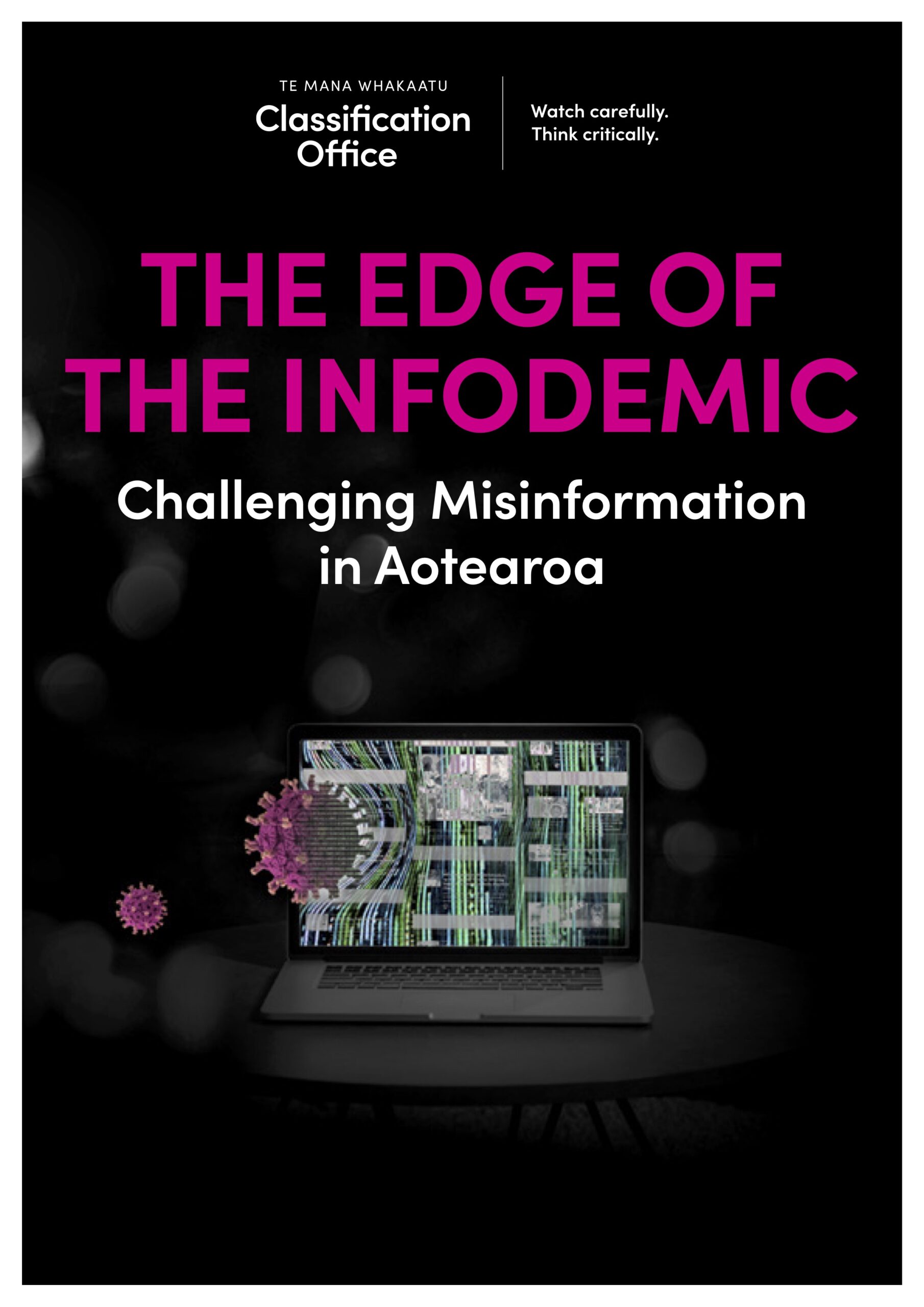 Meaningful policymaking to fight the swelling seed, spread and supremacy of misinformation benefits from data and evidence alive to socio-political realities. A new report from Aotearoa New Zealand's Classification Office does precisely this. 'The Edge of the Infodemic' presents a snapshot of the country's media and information ecologies in addition to the risk of misinformation, which I fear risks expansion and entrenchment.
Headlining the findings, 82% of New Zealanders are concerned about the spread of misinformation. In comparison, 75% think false information around Covid-19 is a significant threat to society. The report also finds those who consume and trust online-only sources of information are more likely to believe false statements. For researchers studying misinformation, the report by the Classification Office holds no surprises.
Several tensions emerge in the report, ranging from the consumption of news and information to what New Zealanders want done to stem or stop the flow of misinformation. At the outset, codified regulation and legislative instruments are inadequate to deal with the problem even as it stands today; leave aside how misinformation will metastasise in the future. Aotearoa New Zealand's geographic isolation will not inoculate her against misinformation's progressively corrosive effects on democratic institutions, electoral integrity, social cohesion, political culture, and media standards. However, meaningfully responding requires familiarity with a vocabulary of harmful or violent intent that many, including in government, may not have. A rough analogy would be to ask firefighters who have only trained in urban scenarios to douse a forest fire. They know what they see but know not how to control or contain the spread of flames in a context fundamentally different to what they were trained for. Policymaking in Aotearoa around misinformation faces a similar challenge.
The report brings out an interesting tension between a general distrust of online sources of information and, simultaneously, social media and the internet emerging as the most popular sources of information. Facebook apps or platforms, including Messenger and Instagram, are predominant news and information vectors, aside from YouTube. As a high-trust society, even with the increasing seed of misinformation in Aotearoa, the subsequent spread is contained by society's ingrained scepticism of scurrilous or spurious claims. However, because of what researchers see in other contexts, heading to Aotearoa New Zealand with a vaulting ambition, this resilience cannot be taken for granted for at least two key reasons.
First, misinformation's harms and study do not often consider the selective capture of issues by political entrepreneurs and the vocabulary used to promote them. The justification of racism, persistent denial of Te Tiriti, the othering of Maori and ostracising minorities, all present in mainstream political discourse, is misinformation that isn't recognised as such when the study of it is limited to specific categories linked to Covid-19 or other conspiracy theories. In different contexts, violent othering and dehumanising language normalise divisive definitions and polarising opinions. This drip-feed of divisive frames can, over a shorter period than many expect, fundamentally change the nature of society.
Secondly, the complicated role of social media platforms simultaneously (and often confusingly) contributes to misinformation's spread and measures to contain it. As much as social media platforms have served to globalise movements like Black Lives Matter or School Strike for Climate, they are also persuasive, transnational highways for hate and harm. Misinformation that's freely and easily accessible on social media supports a compelling worldview for those who feel underrepresented, misrepresented, absent or violently excluded. Perhaps surprising strong advocates of media and information literacy, the presentation of facts or corrective measures to address conspiratorial perspectives, especially by experts or those associated with government, counter-intuitively risk cementing the very beliefs they seek to dislodge.
Today, conspiracies like QAnon, first grown in and for the US, quickly and easily travel to and find domestic resonance in Germany, the UK, France, and Aotearoa. Aiding this toxic transfer is the absent or uneven application of guidelines against misinformation by social media companies. 84% of New Zealanders want a range of actors, including government agencies, officials, experts, news media and social media companies, to address misinformation. What's unclear in the Classification Office report is just what this will entail, given that options range from voluntary codes of conduct to government regulation, revised laws, more robust platform governance, media and information literacy and the deplatforming of misinformation super-spreaders. Existing regulatory frameworks and policy frameworks are no longer fit for purpose to address these complex challenges.
Notably and as a norm-setting example, 'The Edge of the Infodemic' responds to a key recommendation by the Royal Commission on the Christchurch massacre, calling public sector agencies to collect data that helps develop policies strengthening social cohesion. As a snapshot of a post-pandemic country, it is unclear if and to what degree Covid-19 contributed to the significant concern around misinformation. However, given a problem that isn't going away, survey research of this nature should be conducted annually as a barometer of socio-political sentiments, anxieties, perceptions, and behaviours. For example, pertinent to current debates on the revision of hate speech legislation, 'The Edge of the Infodemic' highlights that 79% of New Zealanders disagree that people and organisations should be able to say what they want on social media even if it leads to violence or self-harm. Just 22% think there should be no limits on what people say.
Conversely, Aotearoa New Zealand is almost evenly split between those who believe people and organisations should be able to say what they want even if it offends or upsets others, and those who disagree. On the face of it, this suggests that moves to criminalise misinformation will not work or find broad acceptance, as the Chief Censor's introduction to the report clearly notes. Instead, guardrails against democratic decay require measures to strengthen trust in Aotearoa's news media, government agencies, officials, and her experts, clearly brought out in the report.
In contrast to more violent contexts I study, Aotearoa New Zealand has a window of opportunity to meaningfully address challenges flagged in 'The Edge of the Infodemic'. However, it may not last long. The Royal Commission Report's stress on social cohesion is central to policymaking in this regard. In how and to what degree Aotearoa gives life to the legislative and regulatory expression of aroha (empathy, compassion), manaakitanga (respect and care for others) and mōhiotanga (insight and comprehension) in fighting misinformation will lie the success of the endeavour.
Sanjana Hattotuwa is a PhD candidate at the National Centre for Peace and Conflict Studies (NCPACS) at the University of Otago and Special Advisor at the ICT4Peace Foundation. Acknowledged in the Classification Office report, Sanjana provided input into the questionnaire design as well as early drafts.